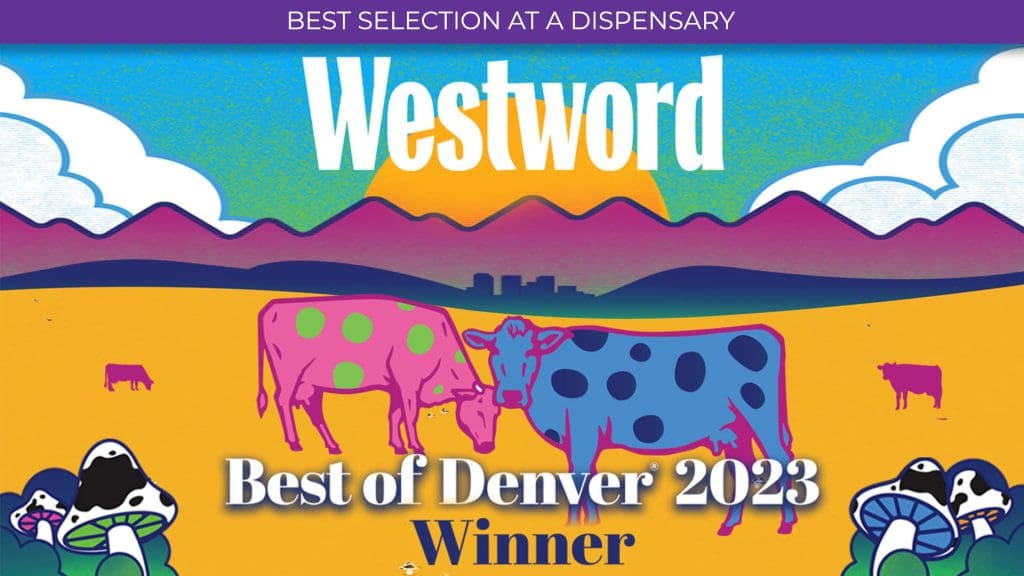 Oasis wins Denver best dispensary.
We're so excited to announce that last month Oasis won Westword's Best Selection at a Dispensary award. Our Denver best dispensary selection includes top products from the area's #1 suppliers for edibles, topicals, flower, and more.  
Denver Best Selection at a Dispensary
Here's what Westword had to say:
"Last time we visited, Oasis Cannabis Superstore had 35 strains on the shelf…from the first three growers listed on the menu alone. In all, there were over 175 strains to choose from on a random Tuesday, not counting the pre-rolls, and the edibles section had even more options. Mass selection is the norm at both locations, so if you're ever in search of a product, chances are Oasis has it. Cannabis products of all price tiers can be found here, and Oasis doesn't skip the smaller stuff, either, with tinctures, topicals and a smoking accessory inventory that can rival a head shop all packed into these skunktastic superstores. Your brain might overload from the abundance of options, but once you settle in, it will be hard to shop elsewhere." 
Denver Best Dispensary Products and Suppliers
The best Denver cannabis products on sale this month at Oasis. 
At Oasis, we know the Denver best dispensary should offer the highest quality products. That's why we're proud to partner with suppliers that produce flowers, edibles, and concentrates that are free from harmful chemicals and pesticides and grown/processed using the best practices. We have rigorous quality control standards that ensure every product that hits our shelves is safe and effective.
Three of our top suppliers are:
Wylde:

Wyld gummies are made with real fruit and enhanced with a balanced hybrid terpene profile to generate a sense of cheerfulness and overall well-being. Ideal for your day-to-day adventures.

Natty Rems:

Natty Rems is proud to produce the highest quality cannabis products with a foundation of passion for handcrafted, boutique-grade cannabis, concentrates, and cartridges – all at a reasonable price.

Sano Gardens:

Sano Gardens brings more than 30 years of combined growing and extracting experience to its cultivating process, including top-quality medical and recreational products.

 
We also know that a knowledgeable staff and welcoming atmosphere are essential to an excellent customer experience. At Oasis, we encourage customers to ask questions and learn more about the products they're buying. Our friendly staff is well-trained and can provide recommendations based on needs and preferences. Staff members can also offer advice on dosage and consumption methods.
Denver Best Dispensary Customer Reviews 
Customers love our Denver best dispensary selection also! 
"I had an extremely satisfying experience here at Oasis Cannabis Superstore in Evans. Not only was their selection quite unique, and extensive, but even Near Closing time, one of the representatives, helped explain to me, and great detail, the different strains in the section I was looking, and helped me to narrow down exactly what I was looking for, based on the effect I was looking for, the length, and my personality quirks. I would recommend Oasis Cannabis Superstore in Evans to anyone seeking a great experience." – Joshua Hales 
"This store has the best selection in Denver along with daily/weekly/monthly deals and unbeatable hours. The products are consistent, in stock and if you find something you like they'll most likely have it the next time you go back. Wyatt and Issac are the best I definitely recommend saying high to them when you're there! You'll never go anywhere else once you stop in here!" – kitty kat 
"Overall, the best in Denver. The best and most comprehensive, on-hand products, from different growers, I've found so far. Gracias. Really great display and great budtenders, especially Steve…very cool dude and super informative..knows his products. Thanx much for a very pleasant visit." – Alfred Eckert 
Visit Oasis for the best selection of cannabis products at a dispensary in Denver. Oasis Cannabis Superstore is your one-stop shop for everything cannabis. At Oasis, you'll find the largest selection of marijuana strains plus the best products by top Colorado growers. 
Shop two convenient Denver dispensaries. Oasis South (Evans) offers both recreational marijuana and medical products. At Oasis Northwest (44th) you'll find recreational cannabis only. Our friendly budtenders are always happy to help find the right products for you. 
Oasis Deals & Events
Signup to get our best deals and specials.