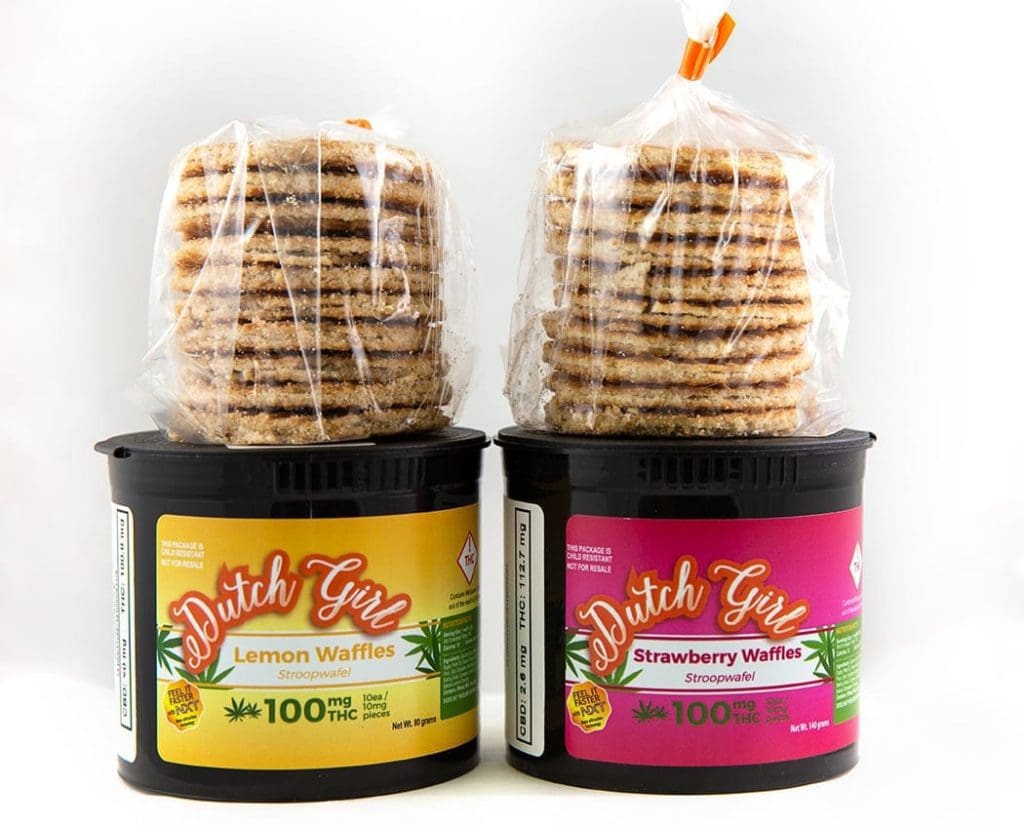 This February 14th  surprise your sweetheart with delicious Valentine edibles. At Oasis, we've got the best selection – from the best providers – in Colorado. Baked goods, gummies, sodas and candies, we have everything you need to indulge your sweetheart this Valentine's Day.
Try these top picks for valentine edibles this year:
Dutch Girl by CannaPunch
If your Valentine enjoys homemade cozy comforts then the Dutch Girl line by CannaPunch may be the best option for you. Dutch Girl offers delicious items like waffles and scrumptious CannaCubes™ that are perfect for curling up with you sweetie on a blustery snowy day. Try Dutch Girl Lemon or Strawberry Waffles with 100mg of THC.
TasteBudz Gummies
TasteBudz gummies are hand crafted in small batches for a most enjoyable and delicious experience. For the gummy-loving Valentine, TasteBudz offers four strain-specific gummy flavors, one infused with CBD. Prepare to place your worries on hold. Sit back, relax, and chew away!
Pressies Supplements
Pressies are wellness supplements that contain effective, targeted nutraceuticals paired with a healthy dose of THC. Each Pressie is designed to help optimize your health, providing energy, focus or relaxation. For the wellness-guru Valentine, Pressies are a home run. Plus, they're Vegan and contain no major allergens.
Lucky Edibles Flavored Mints
Prep for Valentine's kisses with Lucky Edibles Flavored Mints. These cannabis-infused mints are delicious. Plus, they won't melt, freeze, or break apart in the bottle. Lucky mints are the perfect gift for anyone into healthy eating or with dietary restrictions. They're Vegan, gluten-free, and dairy-free.
Sweet Grass Kitchen Baked Goods
Sweet Grass Kitchen is a small-batch bakery that bakes fresh, cannabis-infused, edibles. They're a true crop-to-cookie operation, using a slow-simmered, triple-strained, full-flower cannabutter made in-house for all their recipes. For your Valentine who loves homemade goodies, try Sweet Grass Kitchen's brownie bites, peanut butter and jelly cups, or white chocolate chip butter pecan cookies.
Marqaha Beverages
Maeqaha is the maker of multiple award winning all-natural juice, tea and plant-based cannabis-infused beverages. These two-ounce infusions are Vegan, gluten-free, and low-glycemic so they're also great for anyone with dietary restrictions. Buy Sativa, Indica, Blend or 1:1 CBD/THC "flavors". Each shot is small so they easily fit in a pocket or purse. Great for those busy, fly-by-the-seat-of-your-pants kind of Valentines.
At Oasis, we sell the finest Valentine edibles in Denver. You're guaranteed to find something your sweetie will LOVE. Visit either Oasis location to purchase great products from providers like Canyon Cultivation, Love's Oven, Sweet Grass Kitchen and more!
Oasis Deals & Events
Signup to get our best deals and specials.