April 1st Update: Both Oasis Superstore Denver dispensary locations are open.* We STRONGLY encourage you to pre-order marijuana online now. We will text you when your online cannabis order is ready for pickup. Call 303.333.3338 (North Store) or 303.756.1494 (South Store) to order by phone. *Store hours & availability subject to change. 
As the Coronavirus pandemic continues to evolve, we're doing all we can to support the health and safety of our community, both customers and employees. To that end, we've made some more important – and exciting – changes that will go into effect this weekend. Please take a moment to read about them. As always, our goal is to provide outstanding cannabis flower, concentrates, and edibles without compromising customer or employee wellness.
First, we're very excited to announce the launch of our new online ordering platform! Now, you can quickly and easily order your favorite cannabis products online and pick them up in-store – no waiting in line! This, of course, will help keep up and encourage proper social distancing protocol which is critical for the next few weeks.
To order, just navigate to the store page you'd like to purchase from (Denver South or Denver Northwest). Then, search for the products you want and complete the checkout process. Your order request will be sent to the Oasis Cannabis Superstore location you select. Once your order is ready, we'll send you a text message and you can pick it up in-store.
Please note, online order requests are not available for the last business hour at each store location. We do reserve the right to cancel any order request, for any reason. Call 303.333.3338 (North Store) or 303.756.1494 (South Store) if you have any questions or special needs?
Current store hours are as follows:
Denver South location: 6359 E Evans Ave. Denver CO 80222 
Sunday through Thursday – 10 am – 8 pm
Friday and Saturday – 10 am – 9 pm
Oasis Denver Northwest location: 5440 W 44th Ave. Mountain View, CO 80212
Sunday through Thursday – 10 am – 9 pm
Friday and Saturday – 10 am – 10 pm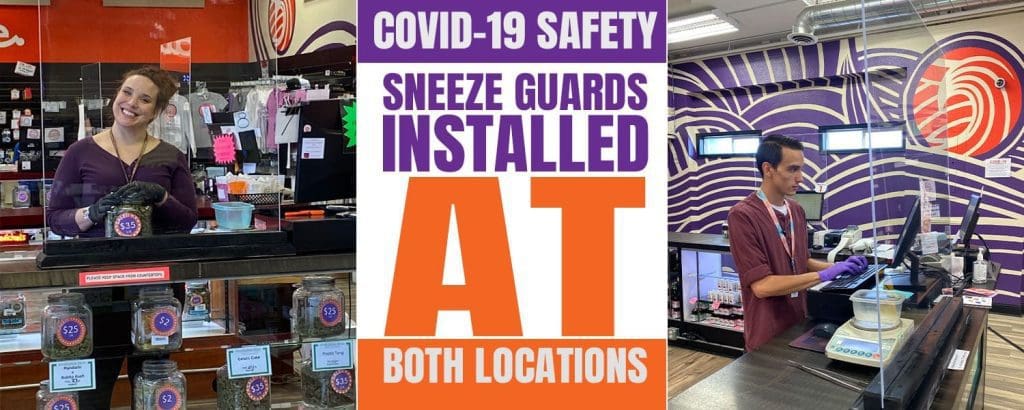 Thank you for reading about the additional steps we're taking to keep our customers and employees safe in these uncertain times. We'll continue to provide updates as things progress. Please do not hesitate to reach out with questions.
Oasis Cannabis houses the largest selection of medical and recreational marijuana in Denver. We offer over 200 different marijuana strains and stock cannabis from top Colorado providers. We're committed to providing outstanding customer service. Our talented staff will help you select the best products for your specific needs. Place your online order today!
Oasis Deals & Events
Signup to get our best deals and specials.