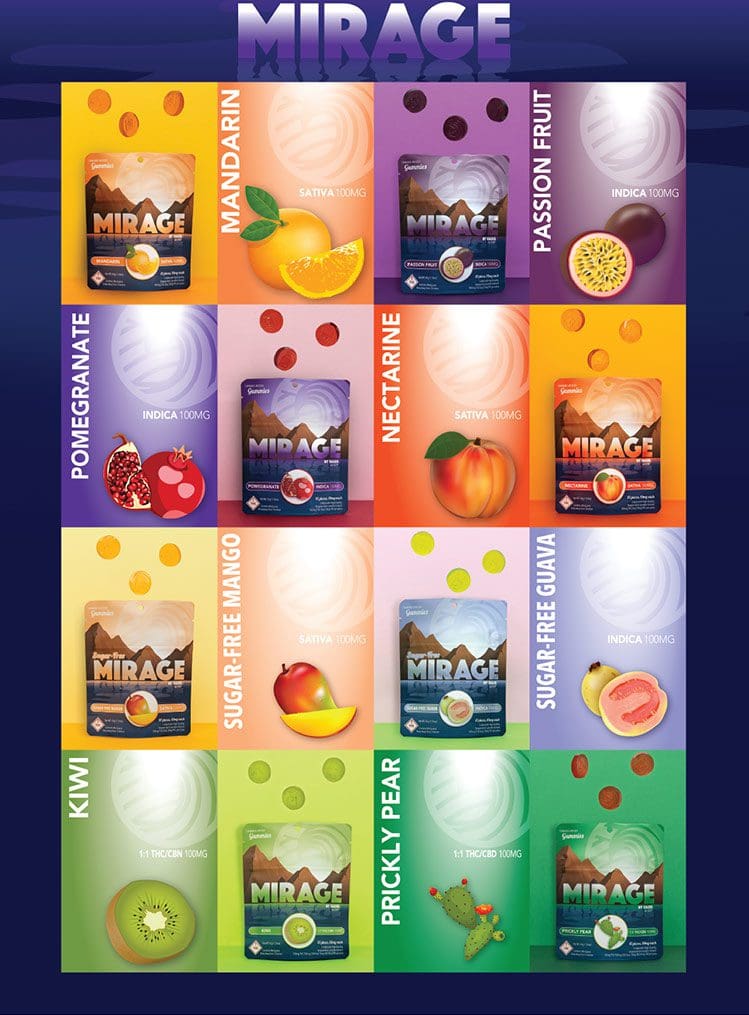 NEW. Get the best cannabis gummies in Denver.
We're so excited to announce the launch of NEW Mirage fruit gummies.
New Mirage gummies are handcrafted in small batches for exceptional taste and quality. With over a decade of experience in the Colorado Cannabis industry, the team at Mirage brings you a reliable, consistent, and 'true to its type' gummy perfect for any occasion. CEO and Founder, Bryan Jarvis, tells us more about this fantastic new product in an exclusive Q&A.
Discover your destiny and enjoy responsibly. Try the best cannabis gummies in Denver: Mirage Sativa, India, Sugar-Free, CBD, and CBN varieties.

Mirage Gummies Q&A with CEO and Founder Bryan Jarvis
How did Mirage gummies get its start? 
"With 12 Years of Colorado cannabis industry experience, we have seen everything that the gummy sector has to offer. With that said, we continue to see all gummy products coming in covered in sugar, and absolutely no sugar-free options. We took that into our own hands and created a delicious, low sugar, non-coated gummy that is equally, if not more, delicious. We also created a line of sugar-free products that is the first of its kind in the industry!" 
What sets Mirage gummies apart from other cannabis edibles? 
"The lack of sugar coating, along with the sugar-free options, set Mirage far apart from any other gummy in the cannabis industry." 
How many flavors/varieties of Mirage gummies are there? 
"The Mirage line offers 8 unique flavors in Sativa, Hybrid, Indica, as well as other cannabinoid infusions. We offer a sugar-free Indica option, as well as a sugar-free Sativa. Our hybrid line offers a 1:1 CBD option, as well as a 1:1 CBN option."  
What distinguishes one variety from another? 
"Our Sativa and Indica varieties are all infused with unique terpenes to offer a distinguished feel on each end of the spectrum. The hybrid varieties are both infused with a full 100mg of other beneficial cannabinoids to create a more unique and specific effect."  
Where do you source your ingredients? 
"Mirage uses high-quality cannabis oil and other cannabinoids sourced from long-time Colorado partners in the industry. Our production team uses as little sugar as possible when producing the gummy's starting material in effort to bring a healthier gummy to our customers." 
Mirage gummies are handcrafted. What does that mean? 
"Mirage gummies are made in small batches in order to keep the quality at the level we always aim for. The founder of Mirage spent over a year dialing in the formulation and would not release the product to the market until 100% satisfied."  
Where can I buy Mirage gummies? 
"Mirage Gummies are launching exclusively at both Oasis Cannabis Superstore locations!"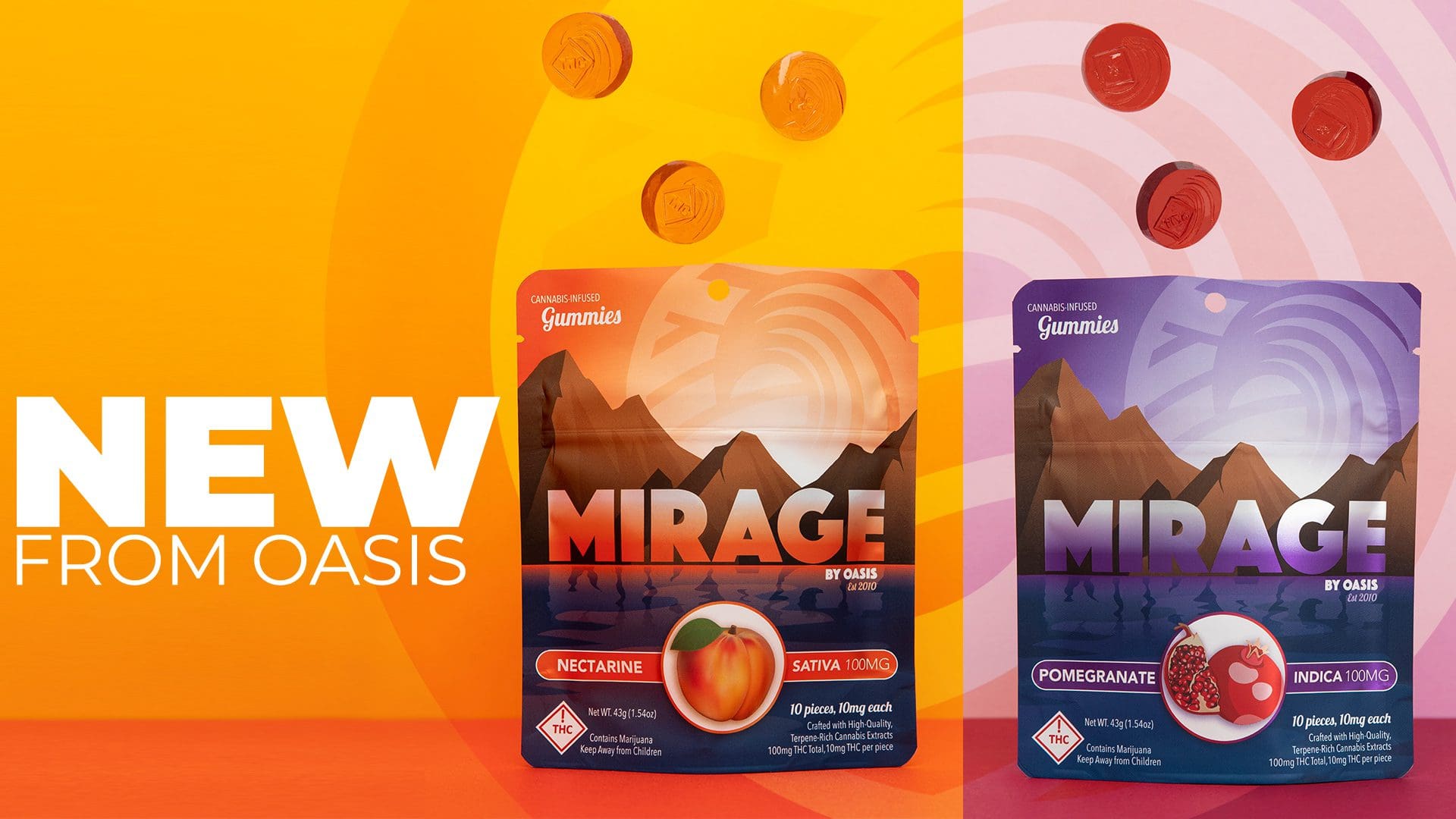 There you have it – all about the best cannabis gummies in Denver. 
Shop Oasis Cannabis Superstore, in-person or online, for Mirage gummies – the best cannabis gummies in Denver – plus a huge selection of medical and recreational marijuana products. Flower, edibles, concentrates, and topicals, we've got it all, plus glass and shatter. Our friendly staff is always happy to answer questions or make recommendations. Visit us at one of two Denver locations, Denver South or Denver North. 
Oasis Deals & Events
Signup to get our best deals and specials.