Updated on March 1, 2022. Originally published on February 28, 2021. 
This month's cannabis specials are magically delicious! Visit Oasis Superstore this March for Denver cannabis deals that will light up your life, plus a very special St. Patrick's Day sale on March 12, 2021. 
Shop Oasis Cannabis in-store or online.
Oasis St. Patrick's Day Sale March 12, 2021 
This St. Patrick's Day, join in the luck of the Irish and celebrate with 15% off store-wide. Don't miss this chance to save big on the products you love the most or try something new. Plus, Flo 107.1/Jammin 101.5 will spin tunes from 12 pm to 2 pm at both Oasis locations.  
March Cannabis Product Highlights
Bloom County – Flower – Rainbow Chip 
Rainbow Chip is an awesome cross of Sunset Sherb and Mint Chocolate Chip, expertly grown by Bloom County. Initial effects include a powerful eutrophic lift, total body calm, and deep relaxation. It's an excellent option for those who are creatively inclined or interested in experiencing a renewed appreciation for music or quiet entertainment.  
Natty Rems – Haze – Golden Goat
This CRx budder by Natty Rems is a Colorado staple with the sweet aroma of fermenting fruit. A Satvia with strong effects, this classic is familiar to most longtime smokers and notable for full-body effects, creative spark, and a delightful rush of euphoria.  
1906 – Chocolates – Go 1:1 CBD 30:30mg 
GO for Energy is an all-natural performance enhancer made from cannabis sativa and four natural stimulants for clean energy. A combination of caffeine and L-theanine gives you a burst of alertness, Galangal enhances focus, and theobromine increases blood flow.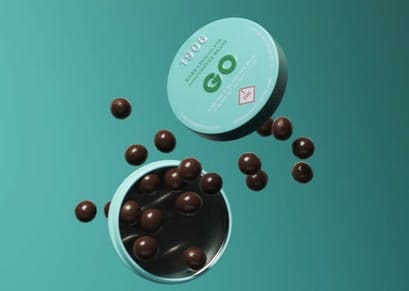 14er – Flint Pod – Cannaterp – Lucky Charms 
14er's Lucky Charms Flint Pod is exactly what you'll find at the end of any rainbow. Scents of toasted marshmallow, berry, pine, and fresh flowers flavor this yummy cannaterp. A cross between The White and Appalachia, Lucky Charms offers a balanced high that's relaxed yet stimulating. It's a user-friendly hybrid, appealing to just about all cannabis users.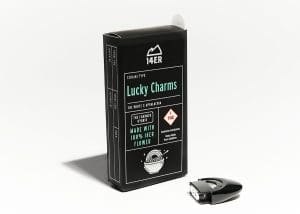 Lucky/Altus – Micro Mints (2mg/pc) – Spearmint Sativa 
These 2mg Sativa micro mints are potent, consistent, and exceptionally delicious. Spearmint, AKA garden mint, packs a huge punch in these tiny treats. You're most definitely in for a good time with these mints by Lucky.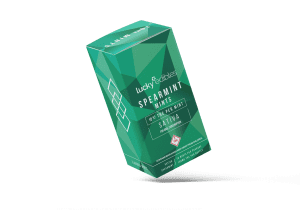 March Denver Cannabis Specials (Month-long) 
20% off all Natty Rems grams of Concentrates (dabbable grams only)

 

20% off all Bloom County Flower and Joints

 

50% off all Canyon Products

 
Oasis March Featured Partner Specials 
Take advantage of these partner specials all month long! 
February 27 through March 5 
40% off all 1906 New High's Products

 

25% off all Dadirri Products

 
March 6 through March 11 
50% off EvoLab 1g Color and 1g Alchemy (no other products included)

 

25% off all Dialed in Gummies

 

25% off Lama Brand Cannabis
March 13 through March 19 
25% off all Batch Cartridges

35% off all Kanha Products

 

25% off Leiffa Concentrates and Chocolate
March 20 through March 26 
25% off all Cheeba Chews Products

 

25% off all Harmony Extracts Products (excluding all 1856 products)

 
March 27 through April 2 
50% off all Ripple products

 

25% off Keef Cola Pax Pods

 

25% off all Viola products

 
We're so excited to bring you these outstanding March Denver cannabis specials. Visit us at Oasis for the best deals on your favorite cannabis products. We house the largest selection of recreational and medicinal products in Denver.
Oasis Deals & Events
Signup to get our best deals and specials.