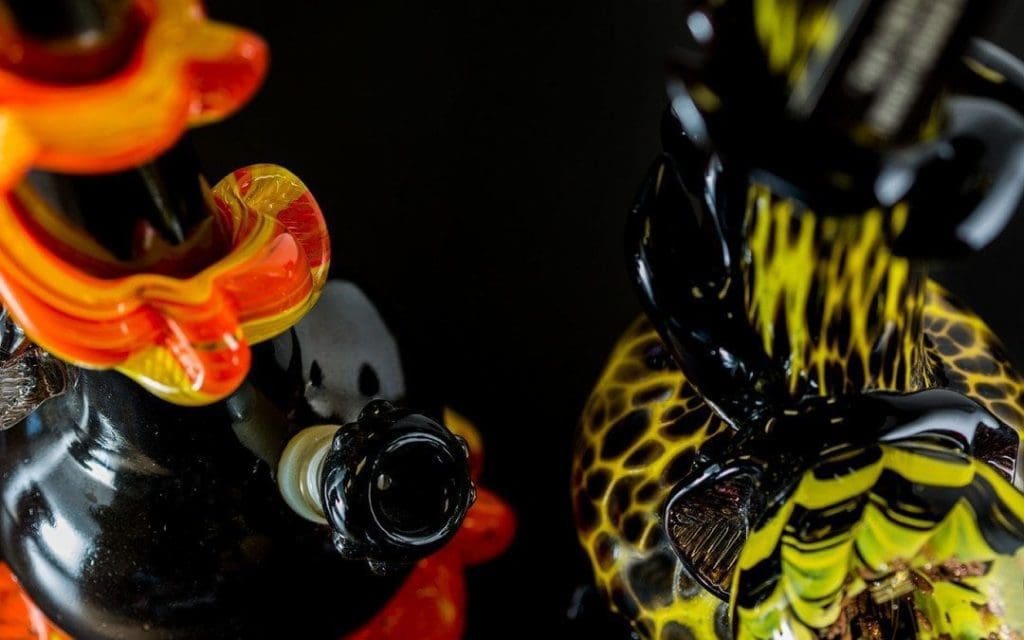 In 2017, Oasis Cannabis was recognized by Westword Magazine as having the "best cannabis selection in a dispensary". But, did you know that in addition to carrying more than 200 unique strains of cannabis, we also carry a HUGE glass selection?
That's right. And, our glass is expertly crafted by local artisans.
Blowing glass is a sophisticated trade. Here how it's done as outlined by Grasscity Magazine
Using a hollowed steel rod or blowpipe, the craftsmen gather molten glass from a furnace which heats up to 2,125 °F. This makes the glass malleable enough for the artist to shape their design. Once an ample amount of glass has formed to the blowpipe, the glass blower will do exactly as their title suggests—blow. The artist blows into the blowpipe and, controlling airflow using a small hole, shapes the glass as it begins to bubble. As the glass cools, it remains sturdy but malleable so that the blower can make tiny tweaks and changes to the design.
Crafting a Bong
Blowing glass will usually result in a bubble-like form which can be shaped into any design. The stem and various cylindrical aspects of a bong as well as the mouthpiece are usually crafted on a lathe to ensure consistency. If the craftsman is looking for a uniform, straight piece of glass, this is the best method. From there, various other parts can be made based on the artisan's preferences, such as ice catchers, percolators and decorative features that all add value to the finished product.
The cooling process of each glass piece is also important. The heavier the product, the more time is needed for cooling. Often, special ovens are used to slow the process which makes the glass more durable. If the glass is cooled down too fast, it can crack in the future even if it is just resting on the shelf.
Glass blowing as an art form has evolved into a highly regarded industry for marijuana-related craftsmanship. As the industry blossoms further, blowers will find room to innovate and build upon a historic art form, especially as legalization becomes more widespread.
Does your glass collection need a new addition? Check out our selections at Oasis South and Central stores. We have the most intricately crafted pieces and unique designs that will satisfy the most particular of tastes.
Oasis Deals & Events
Signup to get our best deals and specials.