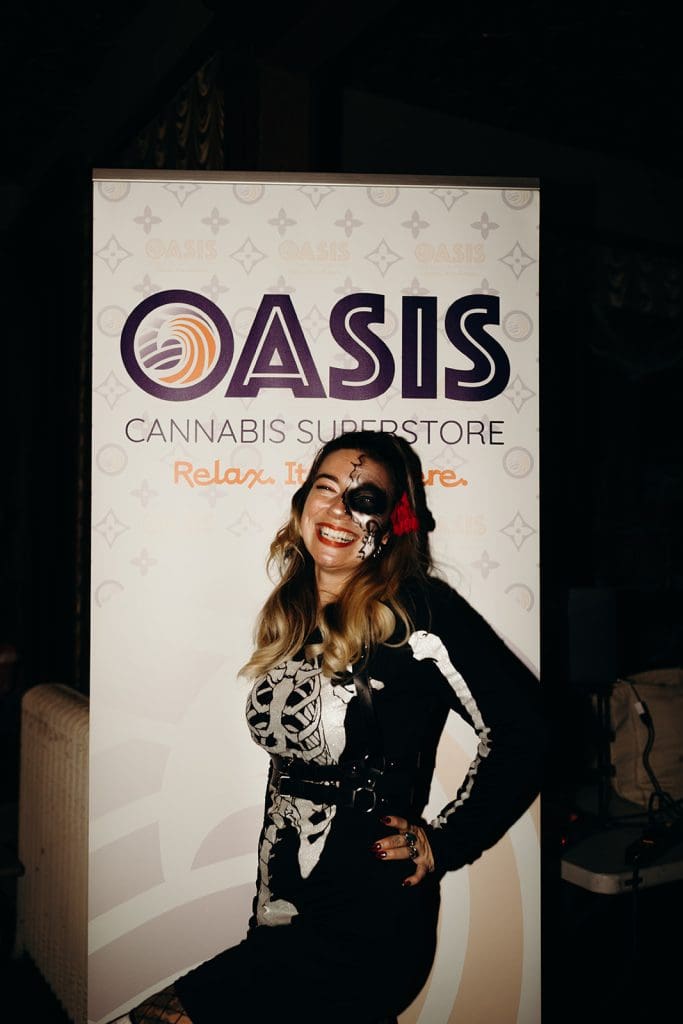 Fall and Winter Cannabis Events at Oasis. The rundown on our recent anniversary party and upcoming "12 Days" of Christmas special that actually runs for 20.
Oasis 12-year Anniversary Cannabis Event
Happy birthday, to…us! Last month we hosted an epic 12-year anniversary event where we celebrated Oasis and all things Colorado cannabis. Festivities took place at the MJ Mansion where vendors, guests, and Oasis staff gathered to celebrate. At the center of it all were special swag bags and raffle giveaways with items valued at up to $50. 
Each attendee was given a card and tasked with visiting vendor partner booths stationed on each floor of the mansion. The first floor was edibles (along with the Oasis booth, DJ, bar, and food. The second-floor featured flower vendors, and the third floor, concentrate vendors. When attendees tried products and "activated" with a vendor, they received a sticker on their card and a raffle number. Once attendees completed all stations, they brought their cards to the Oasis booth, where they received a raffle ticket for a final drawing at the end of the night. Prizes could then be redeemed at either Oasis Cannabis Superstore location for $.10. All participants who completed the event received 20% off a purchase up to $100 at either Oasis location. 
It was a blast, to say the least. Take a look at these awesome event photos. 
Oasis 21 Days of Christmas Winter Denver Cannabis Event 
The Oasis 21 Days of Christmas cannabis in Denver special is back, and this year's $.10 deals are better than ever. 
12 Days of Christmas? More like 21. This year, Oasis is running a new 21 Days of Christmas special from December 4 through December 24. So, it's almost twice the number of special holiday cannabis deals than years past. Wahoo! This year, Santa is coming early. More Oasis Cannabis specials and deals.
21 Days of Christmas Denver Winter Cannabis Event: How it Works 
During this promo, the first 100 customers to spend $100 or more get a special gift for just $.10. We feature a new partner each day, so there's always something fresh to look forward to. More details and a vendor list to follow. Ho, ho, ho, merry Christmas.
 
Oasis Cannabis is proud to offer the best selection of recreational and medical marijuana products in Denver. We house hundreds of unique marijuana strains, 180 different pre-rolled joints, lots of edibles, concentrates, and a huge selection of accessories and custom glass. We also partner with the best local craft and premium craft growers. That means our cannabis products are always pure and fresh. This holiday season, we've truly got something for everybody.   
Shop our two superstores in Denver. Oasis Denver South, at Evans and Monaco, stocks both recreational and medical cannabis products, while Oasis Denver Northwest, at Sheridan and 44th, sells recreational products only. Questions? Our budtenders are always happy to help. 
Oasis Deals & Events
Signup to get our best deals and specials.