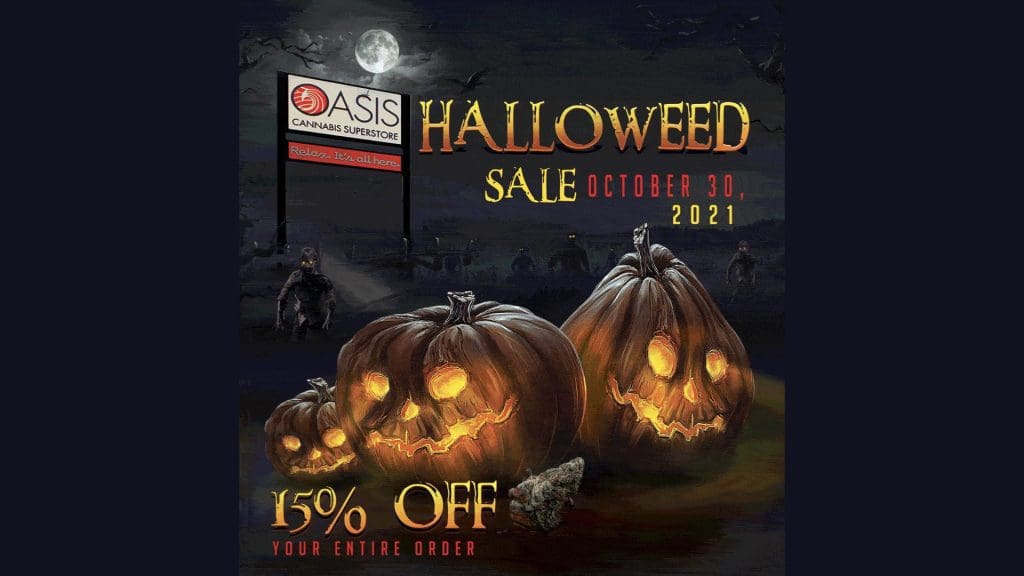 It's the first of the month and you know what that means? At Oasis Cannabis, we're offering a new selection of partner specials for all to enjoy! This month, you'll find excellent deals on products by Canyon Cultivation, Natty Rems, Wylde, and many more. Plus, get ready for a very special spooky celebration on October 30th where you can take 15% off your ENTIRE purchase, storewide! AND last, but not least, enjoy 15% off Leiffa flower ALL MONTH LONG.
October Denver Cannabis Deals at Oasis
Here's what's on deck for October cannabis specials in Denver. 
Take 15% off Leiffa FLOWER | October
A first-of-its-kind sale at Oasis, we've never offered a discount like this on flower from a single vendor before, let alone for a full 30 DAYS. We love Leiffa flower for its flavor and potency. If you haven't tried their product yet, we definitely recommend giving it a try this month.
Oasis 11 Year Anniversary Sale | October 9
Take 11% off your entire order THIS Saturday, October 9th ONLY. Plus, good news…this promo may be combined with some other concurrent deals. Join us for this great discount plus a chance to enter the Bone Thugs Meet n' Greet giveaway brought to you by Jammin 107. For every $20 spent, get an additional entry. Tickets issued between 12pm and 2pm, drawing on Monday, October 11. In-store only. Good luck!
In-store only.
Oasis Denver Halloween Cannabis SALE | October 30, 2021 
October Denver cannabis deals are here and that means a special seasonal celebration on Halloween eve, 2021. This year, Take 15% off your entire purchase. Our storewide sales are always a great opportunity to stock up on the products and brands you love the most. Enjoy this special holiday promotion for Halloween, trick or treat. 
October Denver Cannabis Specials from Oasis Partners
September 26 through October 2
30% off all Canyon Cultivation Products (including 1 gram vapes)

 

25% off all Natty Rems Cartridge Products (including 1g, HT and LR vapes)

 
October 1
30% off all Wyld Products Whole Month of October

 
October 3 through 9
25% off all Wana Products

 

10% off all O.Pen Vape Products

 
October 10 through 16
25% off all Cheeba Chews Products

 

25% off all Binske Concentrate Products

 
October 17 through 23
35% off all Robhots Products

 

25% off all 14'er Flint Products (Flint Products Only!)

 
October 24 through 29
35% off all Kanha Products

 

30% off all Eureka Products

 
October 31 through November 6
30% off all Wyld Products

 

10% off all 500mg Black Label Cartridges and 500mg Pax Pods by Green Dot Labs

 
These cannabis specials aren't the only thing to look forward to in Denver this October. These spooky seasonal events are sure to get your blood flowing.
Halloween Cannabis Events in Denver 2021 
Celebrate Halloween 2021 with limited-time-only Cannabis events in Denver. 
Haunted MJ Mansion Experience | October 2021 
We think this is pretty cool. Book your tour of the MJ Mansion and get a one-of-a-kind immersive experience with a spooky Halloween twist. This year's event planners describe the festivities as follows: During 30-minute tours, guests are invited to explore 3 floors full of frights and delights as they learn about the dark spirits that reside in this haunted, century-old mansion. Your timed ticket will allow you access to 11 spine-chilling rooms full of insta-worthy Halloween photo ops. 
Cannabis Wedding Expo | October 10
Okay, so this isn't technically a Halloween event, be we thought we might as well mention it because it only happens once a year. And weddings are scary for some people, right? Anyway, after a hiatus due to COVID, the annual Cannabis Wedding Expo returns to the Denver area. The expo is described as: full of wedding and cannabis vendors, as well as some that specialize in both sectors. Model bud bars, massage stations, live music, gift bags, cosmetic stations and more will all be part of the experience. 
Creatively Cannabis: Tokes & Brushstrokes plus Costume Contest | October 30 
Tokes & Brushstrokes HALLOWEEN at The Coffee Joint is a cannabis-friendly event for all levels of artists and cannabis users (21+). Details: Show up early in your best Halloween costume to get started with your BYOB bud. Shop Oasis on October 30th for 15%  Consuming cannabis is certainly not required, but this venue offers a legal, safe, and fun place to do that. Halloween Costume contest takes place during the event complete with a mystery prize.  
We hope you enjoy these October special cannabis deals and events. Happy Halloween from all of us at Oasis. Visit us for the best Halloween cannabis deals in Denver. 
Oasis Deals & Events
Signup to get our best deals and specials.