Denver Cannabis Deals: Holidays Specials at Oasis.
This November and December, we're celebrating the holiday season with great deals on your favorite cannabis products! That's right! You don't want to miss this awesome chance to save and try new products. What kind of deals you ask? Take a look!
Black Friday Gift Bag
On Black Friday, we're giving away vouchers for a special gift bag (valued at over $200) to the first 200 people who spend over $100 at each location. That's right! Be one of the first to spend on November 29, and you could score $200 worth of FREE edibles, topicals, flower, and concentrates from your favorite suppliers. Vouchers redeemable December 1 through December 7, 2019.
Bags include items from:
Canyon Cultivation
Dixie
Escape Artists
Eureka Vapor
Incredibles
Keef Cola
Marys Medicinals
Mezz
PAX
Stillwater/Ripple
Sweet Grass Kitchen
The Lab
Mark your calendars. All you have to do is be one of the first to spend $100 the Friday after Thanksgiving!
Batch Special
November 8th through 10th and November 28th through December 1st, we're offering a buy 3 get 1 for $.10 special on distillate gram concentrates from Med Pharm's Batch line. Batch is hand-crafted, small-batch cannabis that's known for its quality, consistency, genetics, and superior terpene profiles. Batch never uses harmful additives or diluents such as PG, VG, MCT, or Vitamin E Acetate.
If you love Batch products, now is definitely the time to stock up.
Oasis Ski Special
This winter, shred some pow on Oasis purple and orange! Beginning December 1, 2019, each customer that spends over $100 – at either location – will receive a raffle ticket and be entered to win these awesome custom skis made in partnership with flow 107.1.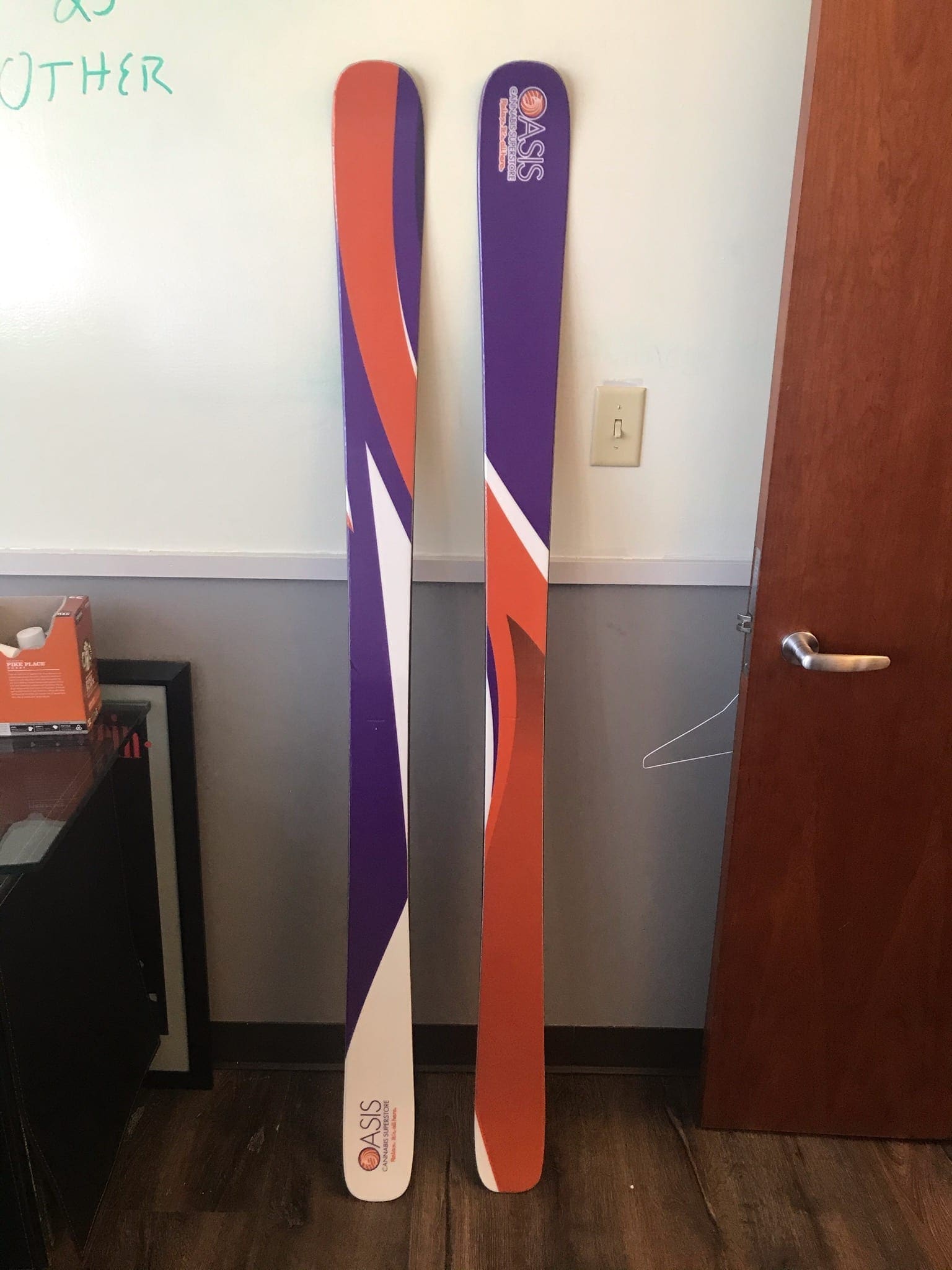 Raffle ticket issue ends on December 21. Drawing will be held on December 28. There is no limit to how many times you can enter. Every purchase over $100 from December 1 through December 21 enters you to win!
We hope you'll join us this holiday season for these incredible Denver cannabis deals.
Oasis Cannabis is home to the best selection of recreational and medical marijuana products in Denver. We stock flower from over 200 unique marijuana strains, plus 180 different pre-rolled joints. We also carry a huge selection of accessories and custom glass. We partner with the best local craft and premium craft growers. That means our cannabis products are always pure and fresh. This holiday season, we've truly got something for everybody.
Shop at our two superstores in Denver. Denver South Superstore at Evans and Monaco stocks both recreational and medical cannabis products, while our Denver Northwest Superstore at Sheridan and 44th sells recreational products only. Questions? Our budtenders are always happy to help.
Oasis Deals & Events
Signup to get our best deals and specials.