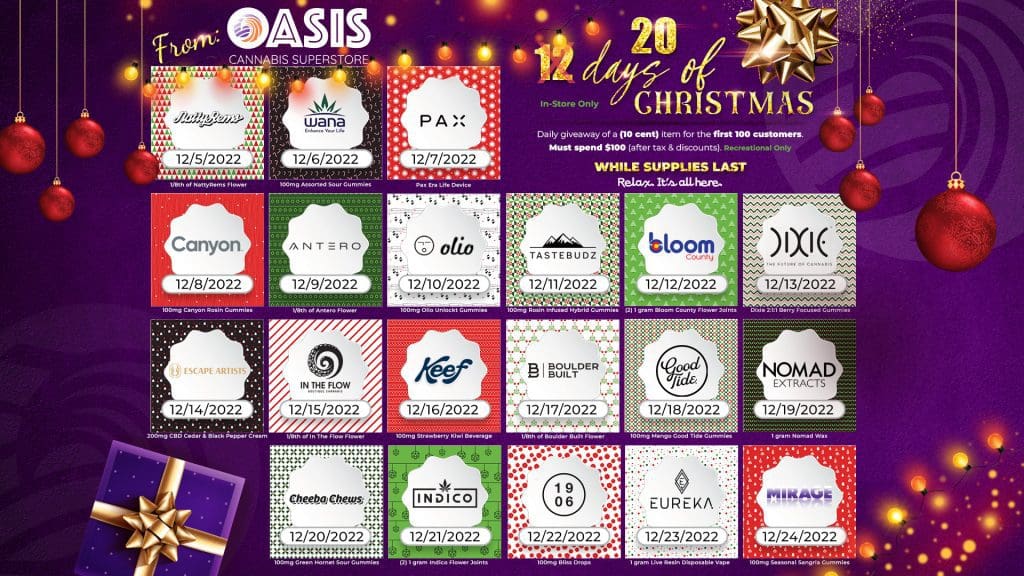 All about Oasis Christmas cannabis specials in Denver 2022. 
On the first day of Christmas, my true love gave to me…a whole lot of cannabis. The Oasis 20 Days of Christmas cannabis special is back, and this year we're celebrating with twice as many $.10 deals.   
Oasis Holiday and Christmas Cannabis Specials in Denver: 20 Days Of Christmas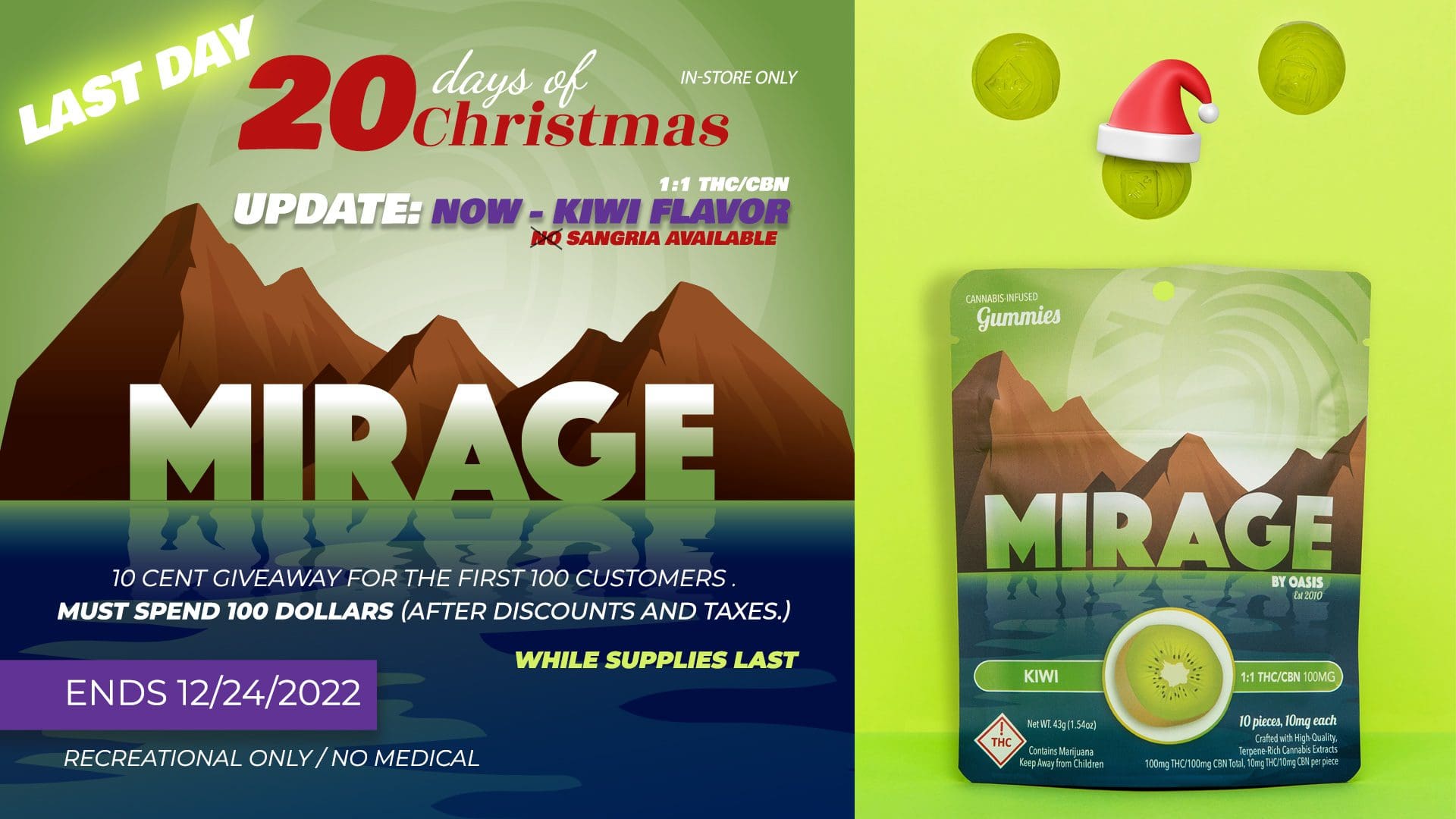 Enjoy special offers from the Denver cannabis brands you love like Natty Rems, Wana, Pax, and more. Every day, December 5 through December 24, the first 100 customers to spend $100 or more (excluding tax and discounts) will receive a special gift for just $.10. Dates and details are as follows: 
December 5  
Natty Rems – 1/8th of Natty Rems Flower 
December 6 
Wana – 100mg Assorted Sour Wana Gummies 
December 7  
Pax – Pax Era Life Device 
December 8  
Canyon – 100mg Canyon Rosin Gummies 
December 9  
Antero – 1/8th of Antero Flower 
December 10 
Olio – 100mg Olio Unlockt Gummies 
December 11 
TasteBudz – 100mg Rosin Infused Tastebudz Hybrid Gummies 
December 12 
Bloom County – 2 1-gram Bloom County Flower Joints 
December 13 
Dixie – Dixie 2:1:1 Berry Focused Gummies 
December 14  
Escape Artists – 200mg CBD Cedar & Black Pepper Cream 
December 15 
In The Flow – 1/8th of In The Flow Flower 
December 16 
Keef Cola – 100mg Strawberry Kiwi Beverage 
December 17 
Boulder Built – 1/8th of Boulder Built Flower 
December 18 
Wyld – 100mg Mango Good Tide Gummies 
December 19 
Nomad – 1 gram Nomad Wax 
December 20 
Cheeba Chews – 100mg Green Hornet Sour Gummies 
December 21  
Indico – 2, 1-gram Indico Flower Joints 
December 22 
1906 New Highs – 100mg 1906 Bliss Drops 
December 23 
Eureka – 1 gram Eureka Live Resin Disposable Vape 
December 24 (Final day of 12 days of Christmas Deals)

Mirage 100mg – Mirage THC/CBD Kiwi Gummies
15% off store-wide on your entire order. Merry Christmas from Oasis.

December 31st- New Year's Sale

15% off store-wide on your entire order. Happy New Year from Oasis Superstore.
End the year with a bang and celebrate the holidays with these great deals. There's never been a better way to save on Christmas cannabis. Happy holidays!
Oasis Cannabis is proud to offer the best selection of recreational and medical marijuana products in Denver. We house hundreds of unique marijuana strains, 180 different pre-rolled joints, lots of edibles, and concentrates, and a huge selection of accessories and custom glass. We partner with the best local craft and premium craft growers and our cannabis products are always pure and fresh. This holiday season, we've truly got something for everybody.   
Shop at our two superstores in Denver. Denver South Superstore at Evans and Monaco stocks both recreational and medical cannabis products, while our Denver Northwest Superstore at Sheridan and 44th sells recreational products only. 
Oasis Deals & Events
Signup to get our best deals and specials.