No, we're not giving away a partridge in a pear tree or three French hens. We're offering something even better. The Oasis 12 Days of Christmas cannabis in Denver special is back, and this year's $.10 deals are better than ever. Read more about this awesome holiday special below, plus take advantage of Oasis December partner specials and great deals on Leiffa, TasteBudz, and Indco Flower all month long. 
Oasis Holiday and Christmas Cannabis in Denver Deals
This year, enjoy special offers from the Denver cannabis brands you love the most. Kanha, Eureka, Bloom County, and more. Every day, December 13 through December 24, the first 100 customers to spend $50 or more (pretax) get a special gift for just $.10. Dates and details are as follows: 
12 Day of Christmas Denver Cannabis Holiday Special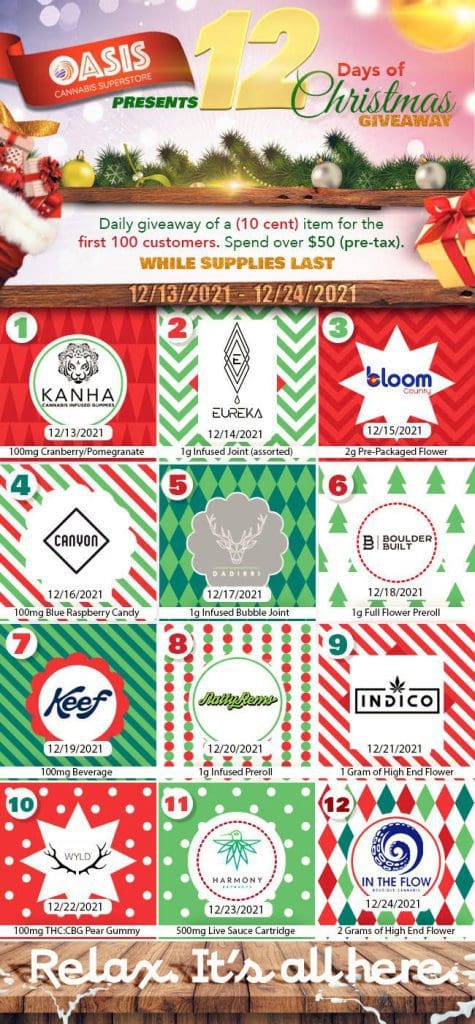 December 13  
Kanha 100mg Cran/Pomegranate Edible

 
December 14 
Eureka 1g Infused Joint (assorted flavor)

 
December 15 
December 16  
Canyon 100mg 1:1:1 THC:CBD:CBN

 
December 17  
Dadirri 1g Infused Bubble Joint

 
December 18 
Boulder Built 1g Full Flower Pre-roll

 
December 19  
December 20  
Natty Rems Natty 1g Infused Pre-roll

 
December 21  
Indico Gram of High-end Flower

 
December 22 
Wyld 100mg THC:CBG Pear Gummy

 
December 23  
Harmony Extracts 500mg Live Sauce Cartridge

 
December 24 
In The Flow 2 Grams of High-end Flower

 
New Year Oasis Cannabis Special 
Stay tuned for more details about special New Year 2022 cannabis deals.  
Featured Partner Specials December 2021
December ALL month LONG 
25% off all Leiffa Concentrate Products (Rosin only) (No Flower or Chocolate)

 

25% off all TasteBudz and Ebb Products

 

15% off all Indico Flower

 
November 28 through December 4 
25% off all Wana Products

 

30% off all Eureka Products (cure joints and devices included)

 
December 5 through 11 
25% off all Kanha Products

 

25% off all Natty Rems & Haze products (including flower & joints)

 
December 12 through 18 
30% off all Wyld Products

 

25% off all Airo Pro Products

 
December 19 through 24 
33% off all Canyon Cultivation Products

25% off all EvoLab Products

 

25% off all Kush Masters Products

 
December 26 through 31 
40% off all 1906 New High's Products

 

10% off all Pax Pods, 1g Carts & Black Label 500mg Carts by Green Dot Labs

 
Oasis Cannabis is proud to offer the best selection of recreational and medical marijuana products in Denver. We house hundreds of unique marijuana strains, 180 different pre-rolled joints, lots of edibles, concentrates, and a huge selection of accessories and custom glass. We partner with the best local craft and premium craft growers which means our cannabis products are always pure and fresh. This holiday season, we've truly got something for everybody.  
Shop at our two superstores in Denver. Denver South Superstore at Evans and Monaco stocks both recreational and medical cannabis products, while our Denver Northwest Superstore at Sheridan and 44th sells recreational products only. Questions? Our budtenders are always happy to help. 
Oasis Deals & Events
Signup to get our best deals and specials.