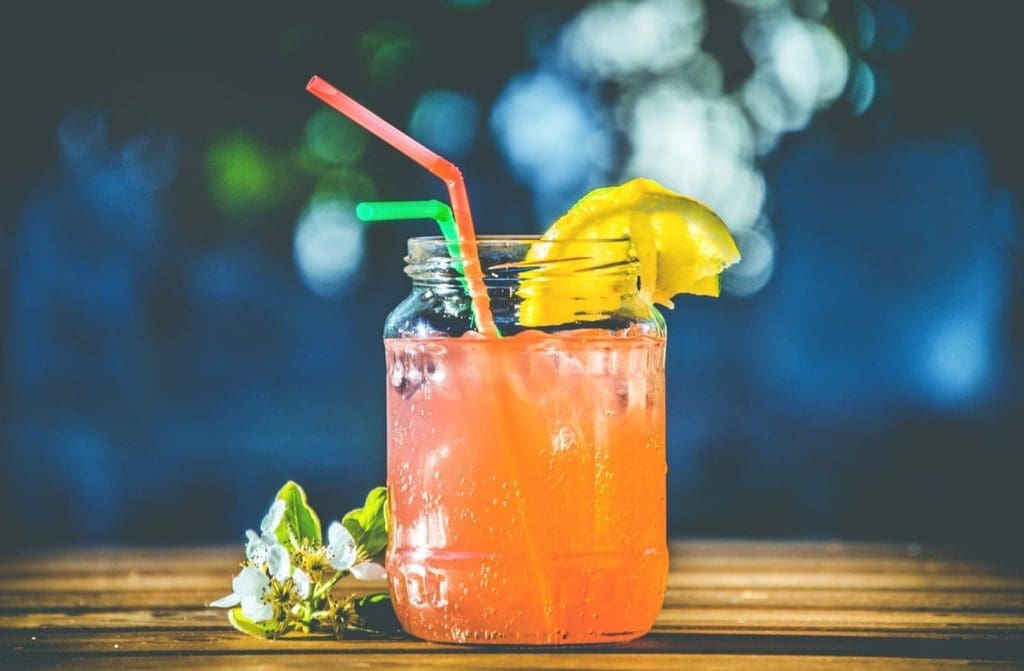 Cannabis cocktails in Denver: how to make your own delicious drinks.
Have you heard of "Stoned" Fruit cocktails? Not to be confused with stone fruit like peaches, plums, nectarines, and apricots, stoned fruit – the term for delicious CBD-laced fruity drinks – are growing in popularity among marijuana lovers everywhere, especially as a yummy summertime treat.
Stoned Fruit
The original Stoned Fruit cocktail was the creation of Mexican restaurant Gracias Madre in California. While the establishment has offered CBD-laced cocktails for some time, this super tasty drink is one of their newest and most popular. It's a combination of mezcal, an agave-based liquor similar to tequila, and Aperol, a rhubarb liqueur, with yuzu juice, apricot liqueur and muddled seasonal stone fruit.
The secret ingredient? A CBD tincture. And, let's just say they don't try to hide the natural skunky taste of marijuana – the flavor works perfectly in the recipe.
CBD Benefits
It's no surprise adding CBD to cocktails is a growing trend in state where marijuana has been legalized. CBD is known to treat a variety of common ailments, including:
Pain relief. CBD has both analgesic and anti-inflammatory properties. It's the preferred cannabinoid for pain because it doesn't have any psychoactive effects.
Anxiety relief. Several studies have shown CBD is an effective treatment for nervousness and anxiety.
Insomnia relief. CBD is known to alleviate many of the physiological conditions that lead to insomnia.
CBD Cocktails
If you don't know of an establishment near you that offers Stone Fruit, don't fret! You can still mix up your own CBD drinks at home. Here are a few recipes to try. Keep in mind you can always change them up to suit your own tastes.
Apricot Smash
Muddle an apricot or your favorite stone fruit and add some agave nectar, lemon juice and bourbon. Top off with a few drops of CBD oil, and you've got a delicious stoned fruit cocktail. TIP: for an extra smoky flavor, you can always grill the fruit before you muddle it. The smokiness of the grilled fruit pairs really nicely with the flavor of most CBD oil.
CBD Tropical Cocktail
In a shaker, mix mezcal and CBD oil with coconut milk, pineapple juice and lime juice. Add ice and shake until chilled. For extra flavor, you can add some matcha green tea. The earthiness of the tea really compliments the lighter, tropical, flavors of the fruit.
5th & MAD Cannabis Cocktail
Stir a little gin, chartreuse, Midori, simple syrup and lemon juice together. Top it off with a little CBD oil and you have a cannabis cocktail perfect for any occasion.
Cannabis Infused Vodka
You can always skip the oil entirely. Humboldt's Finest now makes a cannabis-infused vodka that's perfect if you enjoy the aroma of cannabis, but not effects of THC or CBD. Havana Beach in Rosemary Beach, Florida pairs this vodka with triple sec, lime juice and soda with a bit of local honey for a one-of-a-kind tasty treat that it's easy to make at home.
Today, there are only a handful of restaurants serving cannabis cocktails in Denver. So, if you want to try these delicious concoctions, your best bet is to make them at home. At Oasis Cannabis Superstore we've got a ton of concentrates – like CBD oil – you can use to make your own cannabis cocktails. Plus, we house the largest selection of other products like flower, edible and glass in Denver. Visit us today for all your cannabis needs.
Oasis Deals & Events
Signup to get our best deals and specials.