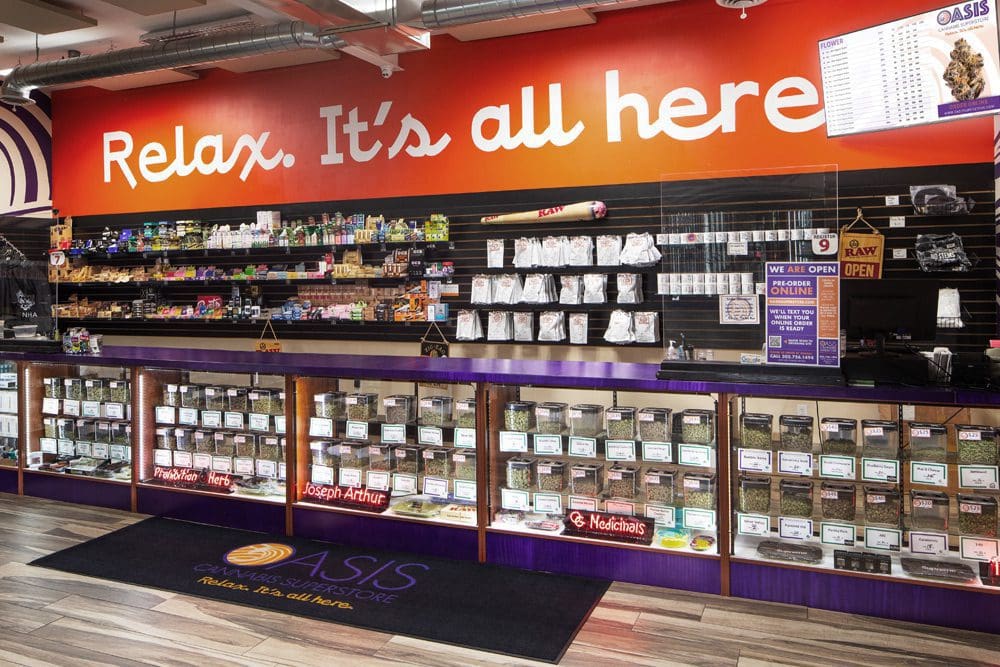 Chill out this month with cool August 2023 Denver cannabis deals brough to you by Oasis Superstore. Enjoy Oasis partner specials from Leiffa, Eureka, Harmony, and more. Plus, take advantage of monthly deals on Mirage, Bloom County, Nomad, and Seed and Smith.   
Don't forget about our Labor Day sale coming up on September 2, 2023, plus read about Mirage Gummies, 40% off this month.   
Shop Oasis. Order online, pick-up in-store.  
Labor Day Sale | September 2  
Oasis Labor Day Sale. Take 15% off storewide. Our storewide sales are always an excellent opportunity to save on the products you love or try something new. In addition to this Labor Day special, we're running partner specials all month long and daily promos on many of your favorite products.  
Mirage Gummies
With over a decade of experience in the Colorado Cannabis Industry, the team at Mirage brings you a reliable, consistent, and 'true to its type' gummy hand crafted with live resin terpenes. Enjoy responsibly. Try Mirage Sativia, India, Sugar-Free, CBD, and CBN varieties, coming soon.  
August 2023 Denver Cannabis Deals: Monthly Oasis Promos 
40% off all Mirage Gummies

 

20% off all Bloom County Flower (joints included in promotion)

 

25% off all Nomad and CSC Dabbable Concentrates (includes syringes, grams, 4g units. No carts)

 

25% off all Seed and Smith 1g Live Resin Cartridges (1g cartridges only)

 
Oasis Cannabis Specials 
July 30 through August 5
20% off all Boulder Built Flower

 

33% off all Cheeba Chews Products

 

25% off of all Leiffa Concentrate Grams (grams only, no cartridges joints or flower)

 

25% off all Batch Cartridges (including 2g cartridges)

 
August 6 through 12  
20% off all Cherry Flower (includes all Cherry joint products)

 

25% off all Dos'd Products

 

25% off all Sano Gardens Aqua Live Resin Grams (dabbable only, no vapes)

 

25% off all Jetty Extracts 1g Cartridges (Jetty products only!)

 

30% off all Eureka Disposables and Plug Play Products (no other Eureka products included)

 
August 13 through 19 
25% off all Leiffa Flower (bulk flower only. no joint products or concentrates)

 

25% off all Sweet Mary Janes Products

 

25% off all Harmony Extracts Live Resin Dabs (no other products included)

 

25% off all Olio Cartridges (no dabbable products)

 
August 20 through 26 
25% off all Vera, Jack and Tical Flower and Joint Products

 

25% off all Seed and Smith Joint products (only joints, no cartridges or grams)

 

40% off all 1906 Products

 

20% off all Green Dot Labs Black Label Grams (Black Label Grams Only, no rosin)

 

25% off all Pax 1g Pods (distillate and rosin) (Phish promotion to be determined) 8/20 through 9/3 (2 weeks+1day)

 
August 27 through September 2 
20% off all Antero Sciences flower

 

25% off all Flower Collective .7g joints and pinner 4pk. (no blunts or rosin carts included) 

 

50% off all Good Tide Products (Does not include any Wyld products)

 

25% off all Single Source Products (concentrates only)

 

50% off all Spherex Pax pods and 1g Cartridges

 
There you have it. August 2023 Denver cannabis specials from Oasis.   
Shop Oasis Cannabis Superstore, in-person or online, for the largest selection of medical and recreational marijuana in Denver. Flower, edibles, concentrates, and topicals, we've got it all plus a huge selection of glass and shatter. Our friendly staff is always happy to answer questions or make recommendations. Visit us at one of two Denver locations, Denver South or Denver North.  
Oasis Deals & Events
Signup to get our best deals and specials.