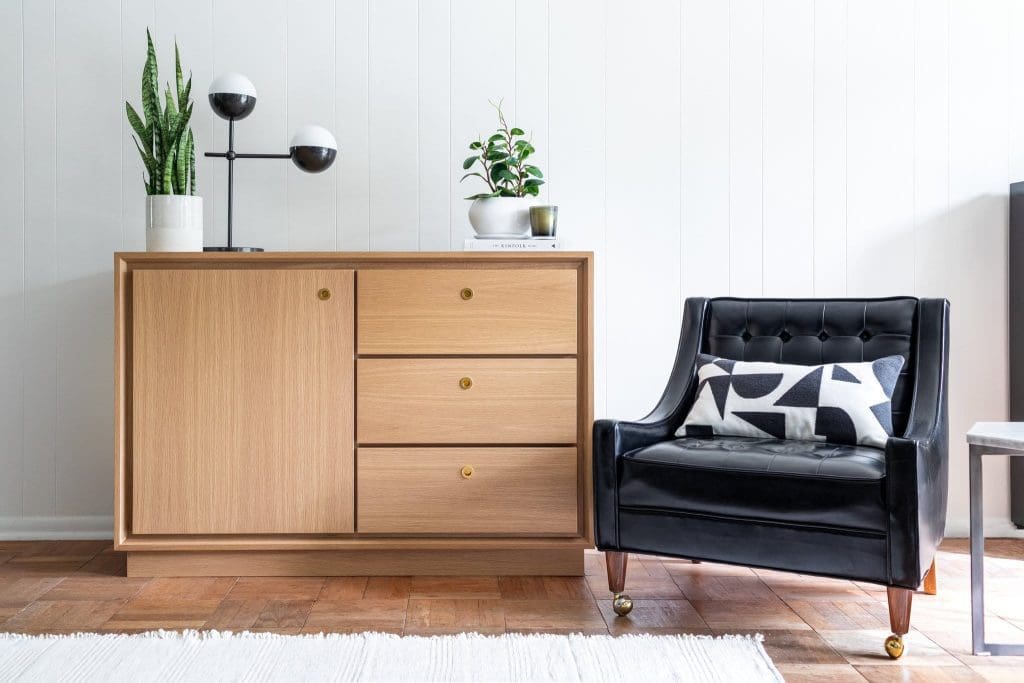 Forti Goods: Among Hottest Cannabis Accessories 2021.
Parents, pet owners, and cannabis coinsurers of all kinds! You will be happy to know that, now, you can store cannabis safely, with ease, and in style.
Responsibly Store Cannabis
Responsible cannabis use and storage is a must. With incidents of children and pets ingesting cannabis accidentally on the rise, there is a need now more than ever to house cannabis products safely, out of reach. That's why we're excited about Forti Goods, founded by Milwaukee native, Sharon Kevil. Forti manufactures small-batch furniture pieces, suited specifically for cannabis users.
The line offers handcrafted pieces made with responsibly sourced ash, oak, and walnut that are certified sustainable by the Forest Stewardship Council (FSC). Each piece is "lined with carbon filters to the scent of cannabis with drawers and cabinets that are secured shut via an app." All items are finished with water-based stains.
Forti pieces are especially useful for larger bongs, pipes, and bowls that won't fit in typical stash boxes or convenient storage spaces. Cabinets like Eleanor offer ample room to house even very large shatter, making
"Stash boxes are great if they fit your needs, but something bigger and more lasting made more sense," added Kevil. "Glassware and larger accessories don't [usually] fit, requiring things to be stored separately. For me, it was important to have the small-scale organization of a stash box, in a bigger piece of furniture that could secure accessories and help with scent control."
Kevil's designs are contemporary in style, usable, and built for a lifetime. They blend easily in most design schemes, and – again – offer the added benefit of peace of mind. Pricing is similar to other furniture manufactures of the same style and quality, ranging from $2,500 for the Ada and $4,050 for the Geraldine. More affordable and compatible accessories are also available, making it easy to build a system that fits your needs exactly. Accessories include organization for vape cartridges, pre-rolls, and flower jars. A percentage of sales supports the Marijuana Policy Project (MPP) through a planned annual donation to its lobbying arm.
Says Kevil, "we provide people, especially parents, with beautiful furniture that facilitates responsible, elevated cannabis use within the home. This is an important niche to fill. The increased potency of today's cannabis means it should be stored responsibly around children and pets. We like to say that our furniture helps you to relax and enjoy your best high because you don't have to worry about accidental ingestion."
Forti comes from the Latin word "Fortis," an adjective that means strong, powerful, mighty, courageous, brave, and bold. Kevil wanted the brand to convey strength not only in her designs but also in its locks.
Of course, you can learn more about these hot cannabis accessories for 2021 on the Forti website.
Check back for updates on promos and sales. Order your favorite Denver cannabis products online or shop in-store. At Oasis, you'll find the perfect items to stash inside Forti Goods furniture.
Image: Forti Goods
Oasis Deals & Events
Signup to get our best deals and specials.