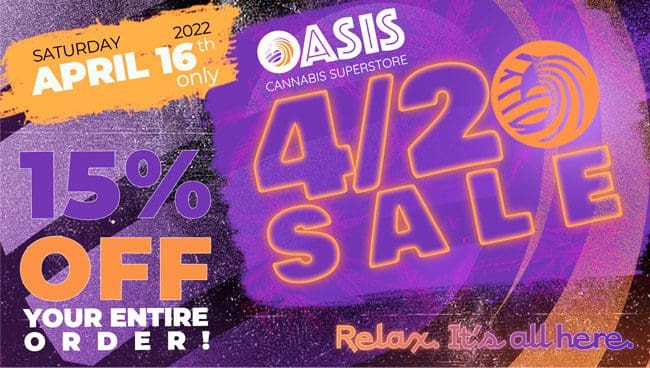 MORE Oasis Superstore 2022 4/20 Cannabis Specials in Denver.  
It's our favorite time of year! Time to celebrate 4/20 and you, our AMAZING customers. 
Shop Oasis in-store or online. 
Join us in-store and online for outstanding holiday deals on your favorite cannabis products and accessories. There's a lot to look forward to this month including daily customer appreciation specials on some of our best-selling cannabis products beginning April 15, 2022. Here's what's coming up. 
Denver Cannabis Special 15% Off Saturday, April 16
Take 15% off (in stores and online). Stock up on old favorites or try something new. 
2022 4/20 Cannabis Specials in Denver: Daily Deals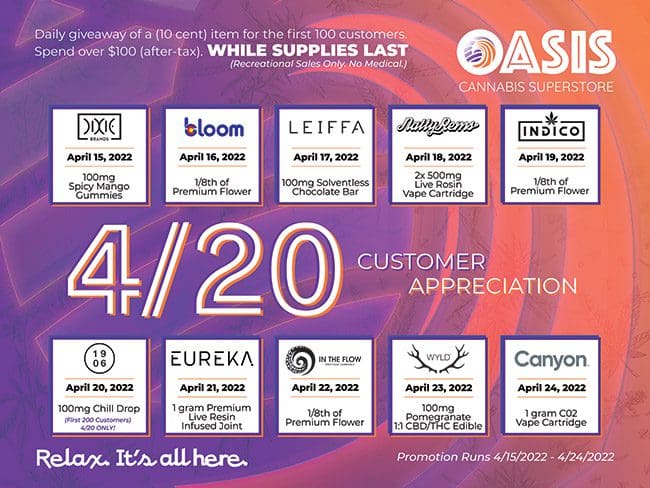 We appreciate you! Beginning April 15th (while supplies last), the first 100 customers to spend $100 enjoy the excellent $.10 deals below.  
April 15 
Dixie 100mg Edible 
Dixie is the maker of handcrafted cannabis products with pure-extracted THC. 
April 16  
Bloom County 1/8th of Premium Flower 
Since 2009, Bloom County has been one of the state's largest medical and recreational marijuana cultivators. 
April 17 
Leiffa 100mg Solventless Chocolate Bar 
Leiffa offers outstanding cannabis products with a focus on incredible genetics and holistic approaches to cultivation. 
April 18 
Natty Rems 2x 500mg Live Rosin Vape Cartridge 
A producer of handcrafted, boutique-grade cannabis, Natty Rems offers concentrates and cartridges at a reasonable price. 
April 19 
Indico 1/8th of Premium Flower 
Winner of the 2019 High Times Cannabis Cup with Mandarin Sunset, try Indico cannabis for excellent pharmaceutical grade cannabis. 
April 20 
1906 New Highs 100mg Chill Drop 
Creators of patented technology, 1906 products offer the fastest onset time and a precision high experience. 
April 21 
Eureka 1-gram Premium Live Resin Infused Joint 
EUREKA is committed to providing high-quality cannabis products that are both pure and potent. 
April 22 
In The Flow 1/8th of Premium Flower 
April 23 
Wyld 100mg Pomegranate 1:1 CBD/THC Edible 
Provider of cannabis-infused edibles for every adventure 
April 24 
Canyon 1-gram C02 Vape Cartridge 
Creator of award-winning cannabis-infused products for everyday enjoyment. 
April 2022 Partner Specials 
Kick off April with 30% off all Wyld products followed by marijuana deals on Keef Cola, Leiffa, and more. 
MARCH 27 THROUGH APRIL 2  
50% off all Ripple Products

 

25% off all Viola products, including prerolls

 
ALL APRIL LONG  
30% off all Wyld Products

 

50% off all Keef Cola Edibles and 25% off on Keef Cola Pax Pods

 

20% off all Nomad and CSC Products (including wax/shatter/live resin/syringes)

 

20% off all Leiffa Flower

 
APRIL 3 THROUGH 9  
50% off all 1906 New Highs Products

 

20% off all Green Dot Labs Concentrates (no discount on flower)

 
APRIL 10 THROUGH 15  
25% off all Wana Products

 

25% off all Akta products

 
APRIL 17 THROUGH 23  
25% off all Airo Pro Products

 

25% off all Leiffa Concentrates and Chocolate

 

35% off all Kanha Products

 
APRIL 24 THROUGH 30  
50% off all Canyon Products (vapes included)

 

25% off all Harmony Extracts Products (excluding all 1856 products)

 
We're so excited to kick off April with these great 4/20 Cannabis Specials in Denver. Visit us in-store or shop online for the best 4/20 deals in Denver. Join in on the celebration all month long. Here's to YOU and 4/20 in 2022. 4/20 Cannabis Specials in Denver. 
Oasis Deals & Events
Signup to get our best deals and specials.