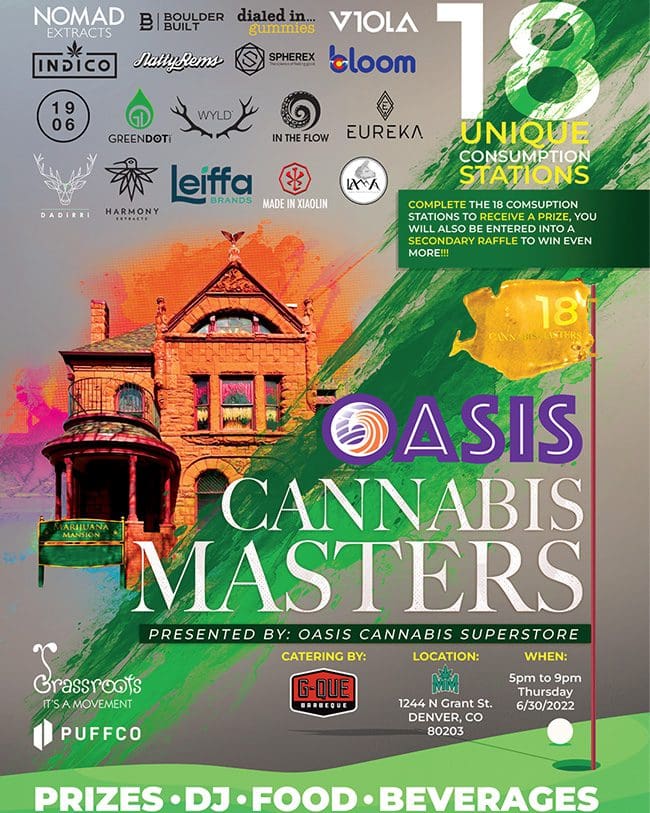 NEW Cannabis Consumption Events in Denver. 
We've been busy overhere at Oasis. Last month we hosted two special events, The Cannabis Masters and an exciting employee appreciation party. 
Oasis Cannabis Masters 
20 vendors participated in this special cannabis event (modeled after the Masters Tournament) where attendees visited vendor tables, sampled products, and got their event scorecards stamped. Once at least 18 stamps were collected, attendees qualified to enter a drawing for special gifts and prizes. Each participant who completed the course also received a large gift bag.  
Participating vendors: 
This event was a first for Oasis as Denver cannabis consumption events and venues were legalized for the first-time last year. 
More About Denver Cannabis Consumption Venues and Events 
What is a Cannabis Consumption Establishment or Special Event? It's an event – that requires a special license – where people may gather to consume cannabis and participate in other activities.  
According to the city of Denver's Excise & Licenses department, "a Cannabis Consumption Establishment or Special Event license allows an existing business or special event to designate part of its premises as a "designated consumption area" or "DCA." A DCA is a specific, designated location within an establishment or special event where consumption of cannabis is expressly permitted." 
Cannabis Consumption Events in Denver 
More events from us like the Oasis Cannabis Masters are in the works. Until the next one is scheduled, check out other Denver cannabis consumption events and venues slowly but surely popping up all over town.  
Westword writes, "Coloradans approved legalizing recreational cannabis over seven years ago, but the state's still slowly figuring out this whole social-consumption thing. Although a new law allowing dispensary tasting rooms and cannabis consumption areas in certain businesses has taken effect, local governments must opt in to the program for these businesses to operate, and that process is happening slowly throughout Colorado. But you're not totally out of luck. a handful of bright and bold businesses have figured out ways to bring cannabis hospitality without technically running afoul of the law. (The City of Denver might dispute that every once in a while with the owners, but guests are generally left alone.) Most of them are private lounges and event spaces, but all of them are down with the cause. Here are eleven places where you can consume cannabis in and around Denver (if you're at least 21), not including your own home:" 
Employee Appreciation Party 
We love celebrating our employees and the hard work they do. That's why we're excited to share news of a recent employee appreciation party we hosted in July. 
Join us at Oasis for the best cannabis flower, edibles, and concentrates. Visit our Denver North and Denver South locations for a huge selection of marijuana products, plus friendly staff, and an exceptional customer experience.  
Oasis Deals & Events
Signup to get our best deals and specials.